British Fashion Awards 2012
Last night, London's Savoy hosted one of the most eagerly awaited fashion events; the British Fashion Awards 2012 which was unsurprisingly celebrated in extravagant style by a hoard of the world famous fashion-elite.
This lavish celebration of creative excellence was wonderfully summarised by 2012's Designer of the Year Stella McCartney who modestly explained; "It's been the best year to be British…and I have to thank everyone who fell in love with London." There really was a feeling of patriotic pride as other British style icons such as Alexa Chung and Cara Delevingne both picked up awards for their contribution to the international fashion scene over the past 12 months. Chung (below left) has been modelling since she was 16 and has risen to worldwide acclaim after representing Vivienne Westwood, DKNY, Lacoste, and of course Stella McCartney. Whilst Delevingne, on the other hand (below right), has been sky-rocketed to the world stage thanks to her incredible campaign with Burberry and Mario Testino Spring/Summer 2012.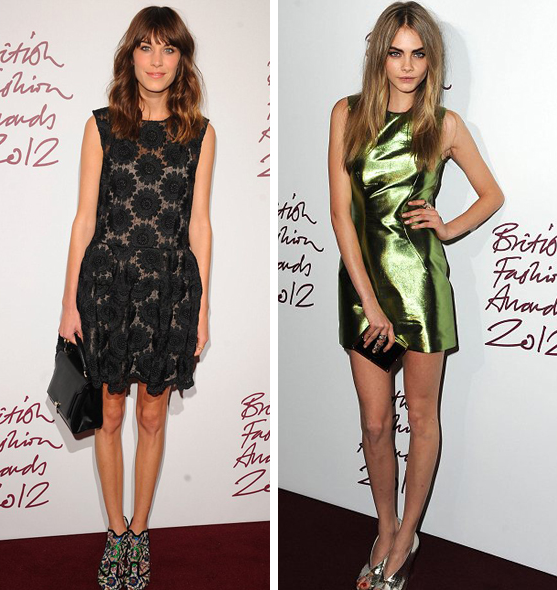 After receiving the award for Outstanding Achievement, Manolo Blahnik was presented with an incredible tribute video from Naomi Campbell, Kate Moss, Anna Wintour and Amanda Harlech which left him almost speechless. Blahnik's shoes are now well-established mainstays and have been featured in popular media such as Sex and the City and the Twilight Saga emphasising the wide-spread appeal of his particular style.
Media darlings such as Rita Ora and Nick Grimshaw (above) partied late into the night after they and the other guests enjoyed a bountiful banquet in the Savoy Ballroom. After what can only be described as a fitting tribute to a significant year for British fashion, it's safe to say the Awards were a tremendous success and a truly positive buzz was felt throughout the fashion world. The only thing to say now is that I'm really looking forward to Spring/Summer of 2013 to see what this year's winners have got in store…
Written by: Alexa Rivergreen  |
Images courtesy of Dave Benett and the Daily Mail
Leave a Reply
You must be logged in to post a comment.
YOU MAY LIKE
August 20, 2012
May 24, 2013
May 08, 2014